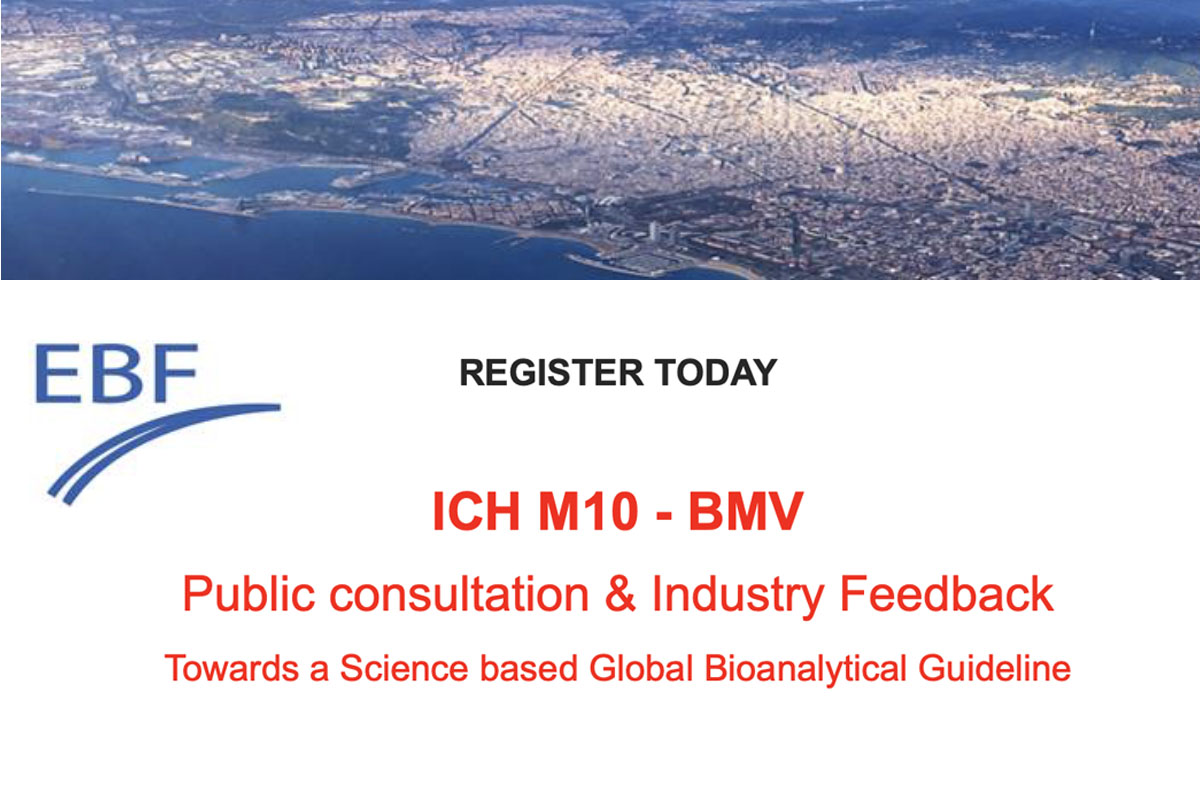 20-22 May 2019 – Hesperia Tower, Barcelona, Spain
AGENDA UPDATES
(pre-)Final Agenda online – click here: http://springfocus.e-b-f.eu/program-workshop/
In addition, meeting delegates will get the opportunity to provide input in the meeting via a Survey. This survey will be sent to all registered delegates around 20th of April. Register on time to participate to the survey and have your comments/questions included in the panel discussions.
You can find the DRAFT ICH M10 GUIDELINE here:
https://www.ich.org/products/guidelines/multidisciplinary/article/multidisciplinary-guidelines.html
REGISTER FOR THE WORKSHOP
To register for the meeting: http://springfocus.e-b-f.eu/registration/
Participation to the 3-day meeting is 630 Euro. The fee includes entrance to the workshop, food and beverages during lunch, coffee breaks and a cocktail reception on the first evening. Dinner and lodging are not included. (After 15 May, we only accept on-site registration at an increased fee of € 750 (cash only)).
We have negotiated special rates with the Hesperia Tower Hotel. To reserve your room, follow this link: Hotel Reservation
More information on who should attend and aim of the meeting can be found here: http://springfocus.e-b-f.eu/general/
MEETING ORGANISATION
From the EBF:
Timothy Sangster (Charles River), Michaela Golob (Nuvisan), Wibke Lembke (Janssen Biologics/Covagen), Tom Verhaeghe (Janssen R&D), Stuart McDougall (Arcinova),
Joannes Stanta (Covance), Sunetha Diaram (Envigo), Arno Kromminga (Bioagilytix), Magnus Knutsson (Ferring), Steve White (GlaxoSmithKline), Robert Nelson (Novimmune),
Joanne Goodman (MedImmune) and Philip Timmerman (EBF)
Collaboration from JBF: Yoshiaki Ohtsu (Astellas), Masanari Mabuchi (Mitsubishi Tanabe Pharma) –   CBF: Kelly Dong (up-Pharma) and Fan Jin (Covance) – AAPS: Faye Vazvaei (Roche)
The conference is organszed as a non-sponsored non-profit event by the EBF vzw. The organisation of the conference is independent of all EBF member companies or collaborators.